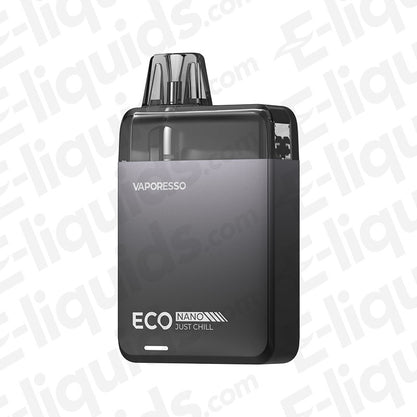 Vaporesso
Vaporesso Eco Nano Metal Edition Vape Kit
Select strength/size: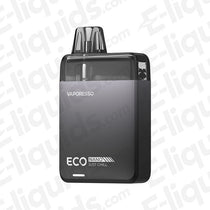 Product Description
The Vaporesso Eco Nano Kit Metal Edition is a super sleek and simple device designed for convenience and ease of use. Ideal for the novice vaper, this easy-to-use Pod Kit features a 2ML long lasting refillable pod capacity that can last up to 13000 puffs. With less need to refill and the device's 1000mAh catering for up to 2 - 3 days use, the Eco Nano Kit minimises fuss with its enduring MTL (Mouth to Lung) pod capacity. Made entirely from eco-friendly materials, this refillable, rechargeable device provides a much more environmentally and budget friendly choice. The polished metal component offers an unmatched durable and stylish vape experience. 
With no buttons to fiddle with or menus to set, the Vaporesso Eco Nano's draw activated technology means no fuss - simply insert your filled pod and you're ready to vape. The ample 2ml Pods feature tried and tested SSS Tech to ensure no leakage. Corex Heating Technology utilises a Morph-Mesh structure and COREX cotton means even faster heating and flavour accuracy from the first puff, all while doubling your pods lifespan. 
The 2ml pod can be refilled using the rubberised, leak-resistant catch on the base of the pod. Each 0.8 Ohm 2ml Pod works best with a 50/50 VG/PG e-liquid or nic salt for a prime MTL vaping experience. We advise using any of the supplied pods with 50% PG or higher e-liquid because the mesh design of the built-in coils heats up your e-liquid more rapidly for enhanced flavour.
Features:
Internal 1000mAh battery
MTL Vaping
Up to 16W output
SSS leak-proof design
Draw-to-vape activation
COREX Heating Tech
Replaceable Pods
In The Box: 
1 x Vaporesso ECO Nano Kit
1 x ECO Nano Pod (0.8ohm)
1 x User Manual
Also bought with this product: