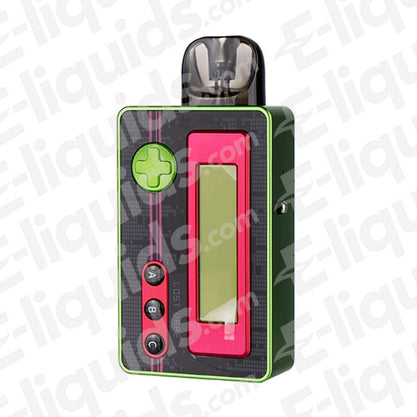 Select strength/size: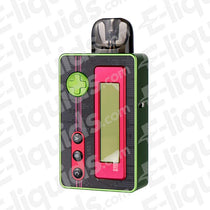 Product Description
The Ursa Pocket Pod Kit by Lost Vape, a delightful retro-inspired device that adds a playful twist to your vaping experience. Breaking away from the norm, Lost Vape presents a pocket-friendly marvel that blends sleek design with gaming elements, making it an instant hit among vapers looking for something different.
With a compact size, the Ursa Pocket Kit boasts a stylish and eye-catching appearance. Its game-style start button and vibrant 1.7-inch OLED screen add a touch of nostalgia, while the 3-inch backlit panel design on the back lends a dynamic flair to the device.
Powered by a robust 1200mAh battery, this kit delivers an impressive 30W of output power, ensuring you enjoy a satisfying vaping experience every time. Its USB Type C port provides a swift 2A charge rate for quick and convenient recharging.
The Ursa Pocket Kit is designed for versatility and compatibility. It accommodates Ursa pods, available in two different resistances, catering to your preferred vaping style. The pre-installed 0.6ohm mesh coil offers a superb RDL (restricted-direct-to-lung) experience, while the included 0.8ohm pod serves as a spare, giving you the flexibility to switch up your experience.
Whether you prefer nic salts or freebase 50:50 e-liquids, the Ursa Pocket Kit delivers a smooth and flavourful vaping experience. The 2ml liquid capacity ensures ample juice to keep you going throughout the day.
But it's not just about vaping; it's about having fun too! The Ursa Pocket Kit features three entertaining games - Virtual Pet, Slot Machine, and Puff Count Competition. Keep yourself entertained and engaged when you're not vaping.
Features: 
Lost Vape Ursa Pocket Pod Kit
2ml E-liquid Capacity
Built-in 1200mAh Battery
Inhale & Button Activation
Refillable Pods
3 x Games
In The Box:
1 x Lost Vape Usra Pocket Pod Kit
1 x 0.6 Ohm Ursa Pod
1 x 0.8 Ohm Ursa Pod
1 x USB-C Charging Cable
1 x Lanyard
1 x User Manual
Product Features
3 Games To Choose From
Device Specs
Also bought with this product: