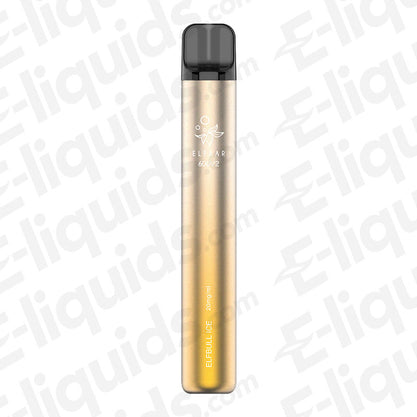 Elf Bar
Elf Bar 600 V2 Elfbull Ice Disposable Vape Device
Select strength/size:

Elf Bar
Apple Peach 20mg Flavour
Apple Peach Disposable Vape Device by Elf Bar 600 V2 is a deliciously fruity blend of crisp apples and juicy peaches, perfectly balanced for a refresh
Product Description
Elfbull Ice Disposable Vape Device by Elf Bar 600 V2 is an ice-cool, caffeine-free, fruity energy drink with every inhale. Experience a zesty, refreshing blast of icy Menthol, offering a vibrant and exhilarating flavor that keeps your taste buds alert.
The Elf Bar 600 has been the best-selling disposable vape since it hit the market. Now, with the release of the Elf Bar 600 V2, things have only gotten better.
With mesh coils and metal gradient technology, the Elf Bar 600 V2 offers incredible flavour profiles, with a faultlessly smooth vapour production.
These disposable devices are draw-activated and come prefilled with 2ml of 20mg e-liquid, meaning they're ready to go straight out of the box.
Elf Bar have mostly kept to the tried and true form factor of their original 600 device, however, they have provided an updated metal casing and stylish new colourways for the new Elf Bar 600 V2 device, these updates mean that the new Elf Bar V2 is not only practical, but noticeably sleeker too.
Available in 30 incredible flavours that last for up to 600 puffs, the Elf Bar 600 V2 seems like an obvious choice for those seeking unrivalled flavour in a stylish and ready-to-go device.
Key Features:
Up to 600 Puffs
Prefilled 2ml E-Liquid 
20mg Nicotine Strength
30 Sensational Flavours
Metal Build Quality
Mesh Coils
Metal Gradient Technology
Draw Activated
Dimensions - 16mm x 105mm
Elf Bar 600 V2 Product Contents:
1 x Elf Bar 600 V2 Disposable Device
Product Manual
Warranty Card

Upgraded Elf Bar 600 device, boasting new Mesh Coil technology for enhanced flavour. 
Elf Bar V2 FAQ:
Where Are Elf Bars Made?
The Elf Bar 600 V2 is manufactured in China and distributed to international markets all over the world. This means that high-quality standards are adhered to, enabling the devices to be sold and purchased even in highly legislated regions.
Is The Elf Bar V2 Refillable?
As a disposable vaping device, the Elf Bar V2 comes prefilled with 2ml of 20mg e-liquid. Elf Bars are intended to be disposed of and replaced once finished. This means there is no option to refill these devices.
Are Elf Bars Rechargeable?
The Elf Bar 600 V2 features a built-in battery that provides more than enough charge to vaporise all 2ml of e-liquid. For this reason, the device is single-use and cannot be recharged.
How Many Cigarettes is Elf Bar 600 V2 Equivalent to?
]The nicotine content of a 600 puff Elf Bar is roughly equivalent to that of 50 cigarettes, meaning that light smokers could get anywhere up to 5 days of use per device, whilst heavy smokers can achieve 2+ days of usage.
Also bought with this product: