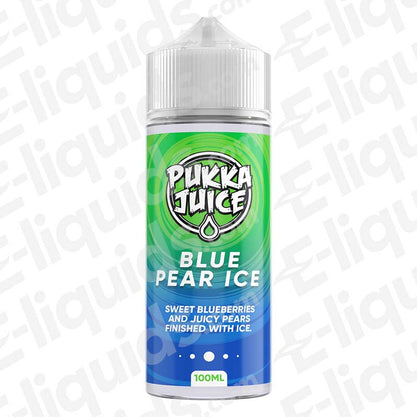 Pukka Juice
Blue Pear Ice Shortfill E-liquid by Pukka Juice
Select strength/size: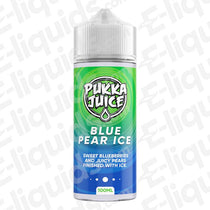 Product Description
Blue Pear Ice Shortfill e-liquid by Pukka Juice combines a cocktail of ripe pear notes with a juicy blast of blueberries on a wave of ice for a cool, refreshing exhale with every puff.
Pukka Juice Blue Pear Ice Shortfill E-liquids are available in a generous 100ml bottle, providing ample room for the addition of two nicotine shots. Just combine two 18mg nicotine shots to transform it into a 120ml e-liquid bottle with a nicotine strength of 3mg.
The entire range of these e-liquids features a 70% VG ratio, capable of generating substantial vapour clouds and delivering exceptional flavours. Due to their higher VG content and thicker viscosity, it is recommended to use them exclusively with sub-ohm kits.
E-liquid Ratio: 70VG/30PG
Bottle Size: 100ml Shortfill
Nicotine Additive: Add 2 x 10ml 18mg Nic Shot for 120ml 3mg E-liquid (Nic shot sold separately)
Device Required: Sub Ohm / Direct to Lung
Flavours: Blueberries, Pear, Ice
About The Brand
Pukka Juice is an award-winning brand that prides itself on creating premium e-liquids in fruity, refreshing and unique flavours. Starting back in 2017, Pukka has been whipping up innovative fruit mixes that have snagged a bunch of awards. It's with these signature flavours that they've accumulated their loyal fanbase across the globe. These juices are the kings of all-day vaping - they just hold their own. We've got the full collection of one-of-a-kind flavours and classics everyone loves, so no matter what kind of vaper you are, we've got the ultimate refreshing juice for you.
Also bought with this product: