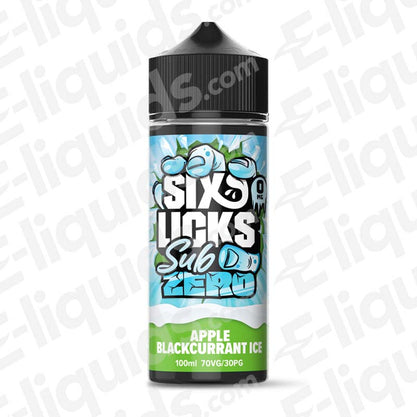 Six Licks
Apple Blackcurrant Ice Shortfill E-liquid by Six Licks Sub Zero
Select strength/size: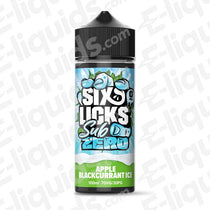 Product Description
Apple Blackcurrant Ice Shortfill E-liquid by Six Licks Sub Zero perfectly blends the classic fruity duo of apple and blackcurrant with a delicious frosty kick of ice, making for a unique and pleasant vaping experience.
Six Licks Frozen Shortfills come in a 100ml shortfill bottle, with enough space left to add your own optional nic shots, which can be purchased separately, in order to blend your mix to your desired nicotine strength.
Six Licks Frozen Shortfills come in a 70VG / 30PG blend, an extremely popular choice amongst vapers who are looking for great flavour, whilst still achieving smooth and thick cloud production. 
100ml Shortfill
0mg Nicotine
70VG / 30PG Mix
Device Required: Sub Ohm / Direct to Lung
Nicotine Additive: Add 2 x 10ml 18mg Nic Shot for 120ml 3mg E-liquid (Nic Shot Sold Separately)
Flavours: Apple, Blackcurrant, Ice
About the brand:
Six Licks are a UK based e-liquid brand that were founded in 2017. Since then, they've been able to gain a huge following all over the world with their award winning premium e-liquid ranges.The idea that has driven Six Licks' success is "Flavour Perfection, In Every Drop." We certainly believe they have more than delivered on that.