Voopoo
Voopoo Drag H40 Vape Kit
Select strength/size: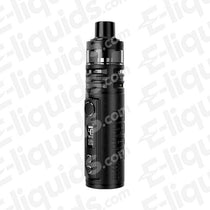 Product Description
The Drag H40 Vape Kit by Voopoo is Engineered for enthusiasts who demand a satisfying vaping session, this innovative device combines cutting-edge technology with sleek design elements to provide an unparalleled experience.
Unleash your inner cloud chaser with the Drag H40's impressive 40W max output. Whether you're a beginner or a seasoned vaper, this device allows you to customise your vaping experience to suit your preferences, ensuring robust flavour and dense clouds every time.
Stay in control of your vaping journey with the Drag H40's intuitive OLED screen. Monitor your battery life, wattage, and more at a glance, making adjustments quick and effortless. With its user-friendly interface, you'll be able to navigate settings with ease, ensuring a hassle-free experience.
The included 2ml pods are engineered for both convenience and performance. Enjoy the convenience of quick and mess-free refills, allowing you to spend more time enjoying your vape and less time dealing with complicated processes. The high-quality pods ensure maximum flavour retention and smooth draws with every puff.
Powered by a robust 1500mAh built-in battery, the Drag H40 keeps you vaping for extended periods. Whether you're on-the-go or lounging at home, experience uninterrupted vaping sessions without the need for frequent recharges. This device is designed to keep up with your dynamic lifestyle.
Customise your vaping experience with the Drag H40's adjustable airflow feature. Achieve the perfect balance between flavour and cloud production by fine-tuning the airflow to your liking. Whether you prefer a tight draw or a more airy inhale, this device ensures a personalised experience for every vaper.
Elevate your vaping game with the Voopoo Drag H40 Vape Kit. Combining power, style, and functionality, this device is your passport to a world of flavour-packed clouds. Say goodbye to compromise and embrace the future of vaping technology. Order yours today and experience vaping like never before.
Features: 
40w Max output
OLED Screen
2ml Pods
1500mAh Built-in Battery
Adjustable Airflow
In The Box: 
1 x Drag H40 Kit
1 x PNP II Pod
1 x PNP - VM3 0.45ohm Coil (Pre-installed) 
1 x PNP - TW30 0.30ohm Coil
1 x USB-C Fast Charger
Stable Magnets That Keep your Pod Secure
PnP Coil Compatible
Great Coil Efficiency
Crystal Clear OLED Screen
Also bought with this product: