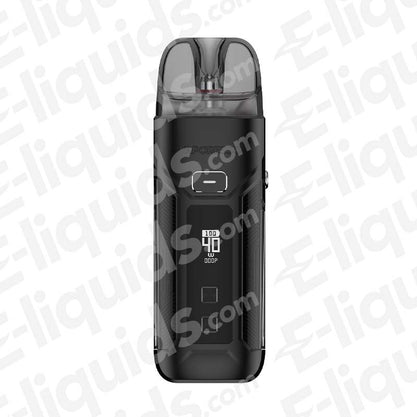 Select strength/size: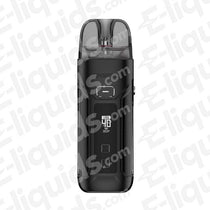 Product Description
The Luxe X Pro by Vaporesso is redefining vaping excellence with its outstanding features. Say goodbye to frustrating e-liquid leaks. The Anti-Leak Pods are engineered to keep your vaping experience clean and hassle-free. No more wasted e-liquid or sticky situations. Crafted to withstand the rigours of daily life, the Luxe X Pro boasts a tough and durable build. It's designed to be your reliable companion, ready to take on whatever the day throws at it.
The 0.4 Ohm coil option delivers a slightly higher vapour output than the 0.6 Ohm alternative. Experiment with different inhalation styles effortlessly, thanks to the intelligent AXON chip. It automatically adjusts the wattage to match your coil choice, ensuring consistently outstanding performance.
Experience unparalleled comfort with the Luxe X Pro's ergonomic design. It fits perfectly in your hand, making every puff a pleasure. Whether you're a newcomer or a seasoned vapour, you'll appreciate the thoughtfully designed form factor. Safety is a top priority, and the Luxe X Pro ensures it. With the Fire Button Lock feature, you have control over when you vape, preventing accidental firing when the device is in your pocket or bag.
The replaceable mesh pods not only save you money but also reduce your environmental footprint while enhancing flavour delivery. For optimal performance and satisfaction, we recommend pairing both coil options with 70% VG e-liquid or higher VG alternatives.
Features: 
Anti-Leak Pods
Tough and durable build
Ergonomic design
Fire Button Lock
E-liquid levels are clearly visible
Auto draw
In The Box: 
Vaporesso Luxe X Pro device
Luxe X Pod 0.4 ohm mesh (installed)
Luxe X Pod 0.6 ohm mesh
Type C USB charging cable
User manual and warranty card
Luxe X kits / pods / coils compatibility card
Unlock the power
MTL and RDL Vaping
The Ultimate Satisfaction
Longer Lasting, Better Flavour 
Also bought with this product: