Uwell
Uwell Caliburn A3S Vape Pod Kit
Select strength/size: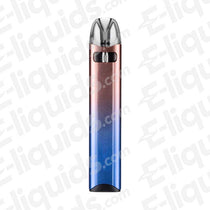 Product Description
The Uwell Caliburn A3S Vape Pod Kit, a perfect blend of style, performance, and convenience. Crafted by the renowned hardware brand Uwell, this pod kit from their Caliburn range is designed to enhance your vaping experience like never before.
With a sleek and durable Aluminium Alloy construction, the Caliburn A3S exudes elegance while ensuring longevity. Its compact and lightweight design makes it the perfect companion for on-the-go vaping enthusiasts.
The Caliburn A3S Pod Kit utilises a refillable 2ml pod, allowing you to enjoy your favourite e-liquids throughout the day without constantly refilling. The pod is easily detachable and features a leak-resistant design, ensuring a hassle-free vaping experience.
Equipped with a 520mAh battery, the Caliburn A3S offers long-lasting power for extended vaping sessions. Whether you're a casual vaper or an avid enthusiast, this kit has got you covered. The USB Type-C charging interface provides quick and efficient charging, allowing you to spend more time enjoying your vape and less time waiting.
The Caliburn A3S offers a maximum wattage of 16W, delivering a satisfying and flavourful vaping experience with every puff. It features two coil options, 0.8ohm and 1.0ohm, providing versatility for both restricted and open airflow preferences. Whether you prefer a tight draw or a looser airflow, the Caliburn A3S has the coil resistance to suit your style.
Features:
16W Fixed Output
520mAh Built-In Battery
2ml Refillable Pods
Side Filling Design
Inhale Activation
Built-In Coils
USB-C 2A Fast Charging 
In The Box: 
1 x Uwell Caliburn A3S Pod Device
1 x Uwell Caliburn A3S Kanthal Mesh 0.8 Ohm Pod
1 x Uwell Caliburn A3S Kanthal Mesh 1.0 Ohm Pod
Also bought with this product: