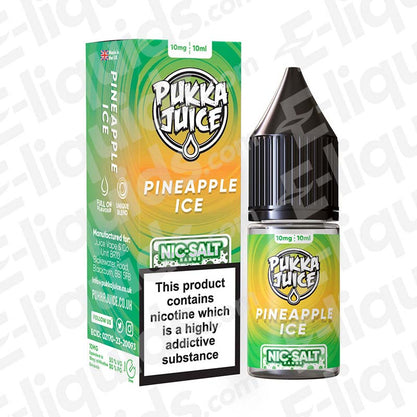 Pukka Juice
Pineapple Ice Nic Salt E-liquid by Pukka Juice
Select strength/size: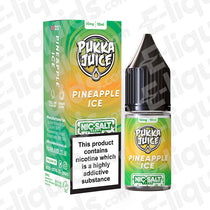 Product Description
Pineapple Ice Nic-salt by Pukka Juice exudes tropical tastes of tangy pineapple, infused with a hint of zesty lime on an icy breeze for a refreshing sun-kissed sensation.
Pukka Juice Pineapple Ice Nic Salt E-liquids are packaged in compact 10ml bottles and come in nicotine salt strengths of 10mg and 20mg. Nicotine salts are an excellent option for those seeking a gentle throat sensation, crisp flavours, and swift nicotine delivery.
Pukka Juice Nic Salts comprise of a balanced 50/50 VG/PG mixture, these liquids are designed to enhance flavour and ensure a seamless vapour production experience, ideally suited for Mouth to Lung (MTL) vaping devices.
Bottle Size: 10ml
E-liquid Ratio: 50VG/50PG
Device Required: Pod Kits / Starter Kits / Mouth-to-Lung
Strengths: 10mg and 20mg
Flavours: Pineapple, Ice
About The Brand
Pukka Juice is an award-winning brand that prides itself on creating premium e-liquids in fruity, refreshing and unique flavours. Starting back in 2017, Pukka has been whipping up innovative fruit mixes that have snagged a bunch of awards. It's with these signature flavours that they've accumulated their loyal fanbase across the globe. These juices are the kings of all-day vaping - they just hold their own. We've got the full collection of one-of-a-kind flavours and classics everyone loves, so no matter what kind of vaper you are, we've got the ultimate refreshing juice for you.