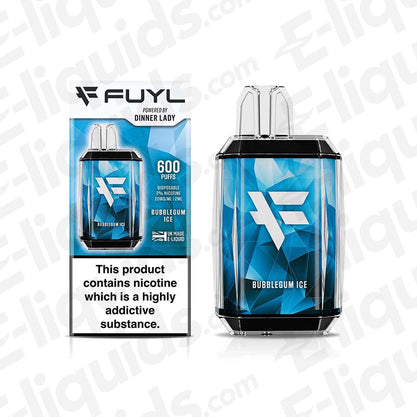 Select strength/size:

Product Description
Bubblegum Ice FUYL Disposable Vape by Dinner Lady delivers a well balanced burst of sweet, nostalgic bubblegum flavour on a fresh icy breeze until the very last puff!
Dinner Lady FUYL disposable vape device is among one of the latest creations to come to life. Each of these slimline devices is packed full of yummy flavour and features an integrated 550mAh battery with up to 600 satisfying puffs.
Due to its expert design, users can expect consistent vapour and flavour delivery throughout!
Features:
Disposable Vape Device
600 Puffs
Built-in 550mAh battery
Inhale Activated
14 Flavours To Choose From
20mg Nic Salt E-liquid
2ml Capacity
In The Box:
1 x Dinner Lady FUYL Disposable Vape Bar
About The Brand
Dinner Lady is a UK based manufacturer of premium e-liquids and vaping products. Since their humble beginnings in 2016, Dinner Lady have been able to garner an outstanding reputation all over the world for their innovative e-liquid flavours, and consistent high quality. The results speak for themselves, as Dinner Lady have won 50+ awards, and show no signs of slowing down.
Also bought with this product: