Select strength/size: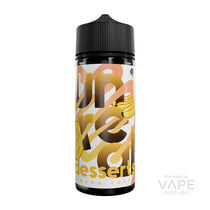 Product Description
Banana Toffee Shortfill E-liquid by Unreal Desserts perfectly captures a blissful banoffee sundae. With lashings of salted toffee layered on creamy banana notes - this is the ideal nic salt choice for any fruity dessert lover. 
Unreal Desserts Shortfill comes in 100ml bottles and are available in 0mg nicotine strength. Shortfills are the economic way to vape, allowing you to add your choice of nic shot strength, shake and vape style.  
Unreal Desserts Shortfill e-liquids consist of a 70/30 VG/PG blend for elevated vapour production and high-performance flavours. These e-liquids are best for use with DTL (Direct to Lung devices).
E-liquid Ratio: 70VG/30PG
Bottle Size: 100ml Shortfill
Nicotine Additive: Add 1 x 10ml 18mg Nic Shot for 60ml 3mg E-liquid, Add 2 x 10ml 18mg Nic shot for 120ml 3mg E-liquid (Nic shot sold separately)
Device Required: Sub Ohm / Direct to Lung
Flavours: Banana, Toffee
About the Brand
Unreal e-liquids are manufactured in the UK with a wide range of delicious e-liquids infused with elevated fruit fusions and decadent desserts to suit every palate.
Also bought with this product: