Gold Bar
Pink Grapefruit Gold Bar Disposable Vape Device
Select strength/size: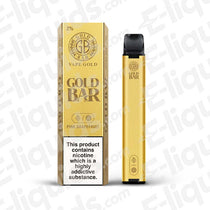 Product Description
Gold Bar Pink Grapefruit Disposable Vape is a tangy and citrusy pink grapefruit flavour with a bitter-sweet finish that refreshes the palate.
Features:
Built-in battery
Pre-filled 2ml 20mg Nic Salt
Up to 600 puffs
Hyper Mesh Coil
Inhale-activated
Dynamic atomiser
Gold Bar disposable sets a new gold standard in the vaping industry, combining premium materials and unmatched craftsmanship to deliver the next generation of disposable vapes. 
With a 2% nicotine strength and 22 bespoke flavours to choose from, this product offers a satisfying and convenient vaping experience.
Thanks to built-in hyper mesh coils, a dynamic atomiser and 2ml of finely crafted e-liquid, the Gold Bar can deliver 600 puffs of exquisite flavour.
In The Box:
1 x Gold Bar Disposable Vape Device
Also bought with this product: