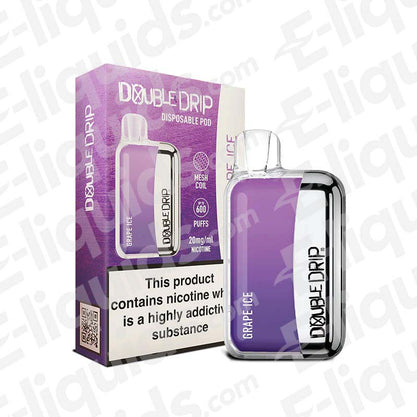 Double Drip
Grape Ice Disposable Vape Device by Double Drip
Select strength/size: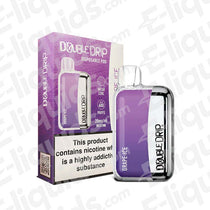 Product Description
Grape Ice Disposables by Double Drip provides a whimsical dance of sweet grapes and a minty menthol breeze, a flavour fusion that takes your taste buds through sun-ripened vineyards and icy wonderlands—a juicy vape for all-day enjoyment.
Double Drip are driven by their commitment to supplying traditional smokers with an effective, enjoyable and flavourful alternative in order to aid overall smoking cessation rates. Even with their evocative and colourful packaging, Double Drip e-liquids themselves are always the main event - with their promise of unparalleled taste with every puff. 
With mesh coil technology, Double Drip disposables offer double concentrated flavour delivery and plentiful vapour production. The draw-activated device is pre-filled with 2ml of 20mg Double Drip Nic-Salt e-liquid, so simply unpackage your vape and you're ready to go. 
Double Drip perfected their formulas out the gate and quickly garnered a high-quality reputation within the industry. The 'match-box style' Double Drip devices are the delicious pinnacle of disposables with the semi-transparent device and comfortable, duo-toned handheld style device. 
Available in 20 unbeatable flavours that last for up to 600 puffs, Double Drip Disposables is sure to be your favourite new addition in your vape rotation. 
Features:
2ml E-liquid Capacity 
1.3 Ohm Mesh Coil
500 mAh Built In Battery 
Up to approx 600 puffs
Contains 50 VG / 50 PG E-liquids
Available in 20 flavours
About the Brand
Since 2016, Double Drip has been introducing ranges of unforgettable and highly-praised e-liquid flavours for beginner and seasoned vapers - now introducing with their all new disposable device. With a lineup that includes some of the most revered e-liquids in the vaping world, there's never been a more perfect moment to explore the Double Drip universe and elevate your vaping experience. 
Also bought with this product: