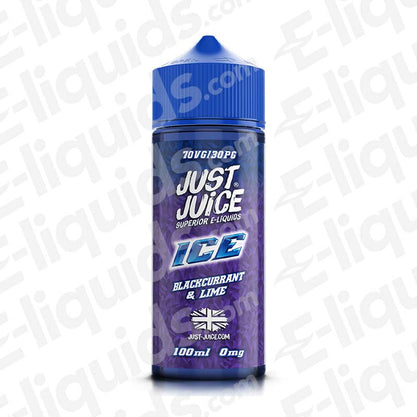 Just Juice
Blackcurrant Lime On Ice Shortfill E-liquid by Just Juice
Select strength/size: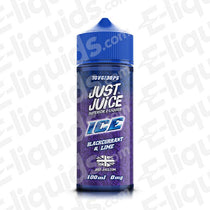 Product Description
Blackcurrant Lime On Ice Shortfill E-liquid by Just Juice fuses together a mix of wild picked blackcurrants and freshly plucked limes squeezed together over ice for a flavour that will tingle your taste-buds. 
Just Juice Blackcurrant Lime On Ice Shortfill E-liquid offers a 100ml bottle size that can accommodate two nicotine shots. By adding two nicotine shots, you can transform it into a 120ml e-liquid bottle boasting a 3mg nicotine strength.
The entire shortfill range of e-liquids from Just Juice is carefully crafted with a 70VG/30PG ratio, making them perfectly suited for sub-ohm vape kits. Immerse yourself in a flawless Direct-to-Lung (DTL) vaping experience, where these high VG e-liquids enchant your palate with their delightful flavours, all while generating thick and voluminous clouds of vapour.
E-liquid Ratio: 70VG/30PG
Bottle Size: 100ml Shortfill 
Nicotine Additive: Add 2 x 10ml 18mg Nic shot for 120ml 3mg E-liquid (Nic shot sold separately)
Device Required: Sub Ohm / Direct to Lung
Flavours: Blackcurrant, Lime, Ice
About the brand:
Just Juice are a UK based manufacturer of premium e-liquids and vaping products. Established in 2017, they have since been able to garner an outstanding reputation in the vape industry, and have truly shown the effectiveness of standing by their ethos of "Real Quality for Real People".
With their now vast range of products, including shortfill e-liquids, nic salt e-liquids, Just Juice Fusion, Just Juice on Ice, and even more, Just Juice continue to take the vaping world by storm with products that never fail to satisfy.