Select strength/size: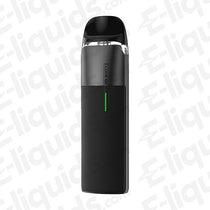 Product Description
The Luxe Q2 Vape Pod Kit by Vaporesso is the ultimate choice for new vapers seeking simplicity, performance, and portability.
The Luxe Q2 effortlessly redefines ease of use with its fixed-coil pods, inhale firing, and automatic power settings. Bid farewell to complicated setups and say hello to instant gratification. Just fill and attach a pod, wait a few minutes, and inhale on the mouthpiece to start vaping. When your pod reaches the end of its life, replacing it with a new one is a breeze.
Enjoy uninterrupted vaping sessions with the Luxe Q2's formidable 1000mAh battery, which keeps you vaping for up to 2 days between charges. And when it's time for a recharge, the convenient USB-C charging ensures you'll be back in action quickly.
Unleash Unrivalled Flavour with COREX Heating Technology. Experience a world of flavour like never before. Vaporesso's innovative COREX heating technology, coupled with the advanced Axon chip, delivers rich, accurate, and long-lasting flavour. Savour every puff as if it were your first.
The Luxe Q2 is perfectly designed to work seamlessly with Luxe Q pods, ensuring optimal performance. It's recommended for use with VG/PG 50/50 e-liquids, providing a well-balanced vaping experience that caters to a wide range of flavour preferences.
Embark on your vaping journey with confidence and style. The Vaporesso Luxe Q2 Vape Pod Kit is your perfect starter kit, combining simplicity, power, and flavour to elevate your vaping experience. Elevate your vaping game today with Vaporesso.
Features:
Up to 2 days power with 1000mAh battery
Fixed-coil pods,
Auto power settings
Inhale activation
Rich, long-lasting flavour with COREX heating tech
Box Contains:
1 x Luxe Q2 SE Device
1 x 0.8ohm Mesh Luxe Q Pod (2ml)
1 x USB-C Cable
1 x Lanyard
1 x User Manual & Warranty Card
Side-slide airflow adjustment mode allows seamless transitions
Ultimate flavour delivery, Unmatched enjoyment.
Rapid charging, long lasting vaping. 30 minutes charge cycle providing 48 hours worth of vaping.
Also bought with this product: