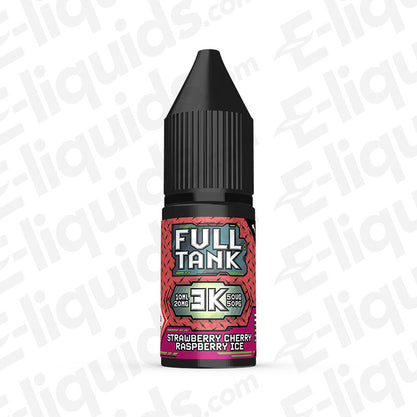 Full Tank
Strawberry Raspberry Cherry Ice Nic Salt E-liquid by Full Tank
Select strength/size:

Product Description
Strawberry Raspberry Cherry Ice Nic Salt E-liquid by Full Tank provides a sensational blend of strawberry, raspberry and cherry flavours, balanced perfectly with just the right amount of cool ice, making for an incredibly refreshing and fruity flavour profile..
Full Tank Strawberry Raspberry Cherry Ice Nic Salt E-liquid is available in a compact 10ml bottle size with 20mg nicotine strength. Ideal for daily vaping, this nicotine salt e-liquid offers fast nicotine delivery and delicious flavour output.
Full Tank Nic Salt eliquid consists of a 50/50 VG/PG mix making it suitable for use with pod vape kits and pen-style kits. When using these types of mouth to lung vape kits, you can expect a rich flavour base and discreet clouds alongside satisfying nicotine delivery.
Bottle Size: 10ml
E-liquid Ratio: 50VG/50PG
Device Required: Pod Kits / Starter Kits / Mouth to Lung
Strengths: 20mg 
Flavours: Strawberry, Raspberry, Cherry, Ice
About The Brand
Full Tank are a Morocco based manufacturer of premium e-liquid products. They pride themselves on using only the highest quality ingredients and production methods. With this philosophy in mind, Full Tank have been able to produce a range of exceptional e-liquid products, in both shortfill and nicotine salt varieties.