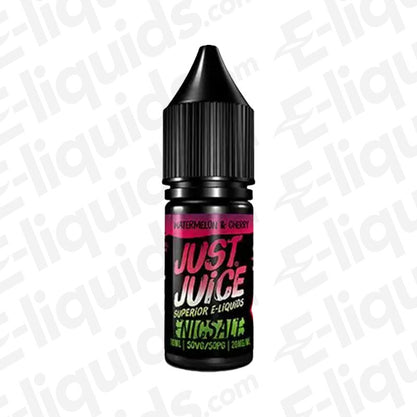 Just Juice
Watermelon Cherry Nic Salt E-liquid by Just Juice
Select strength/size: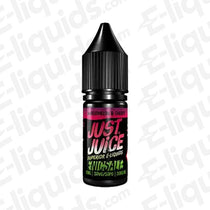 Product Description
Watermelon Cherry Mint Nic Salt E-liquid by Just Juice is a tantalising blend that combines the juiciness of ripe watermelons, the sweetness of succulent cherries, and the refreshing coolness of fresh mint. 
Just Juice Watermelon Cherry Mint Nic Salt showcases a 10ml bottle size and comes in 5mg, 10mg and 20mg nicotine salt strengths. When combined with pod-style or pen-style vape kits, this nicotine salt e-liquid ensures seamless vapour distribution and delivers nicotine at an exceptional level.
Designed specifically for MTL vape kits, the entire e-liquid range boasts a balanced 50VG/50PG ratio. Immerse yourself in a flawless MTL vaping journey, where these e-liquids enchant your palate with delightful flavours and gratifying clouds of vapour.
E-liquid Ratio: 50VG/50PG
Bottle Size: 10ml Nic Salt
Nicotine Strengths: 5mg, 11mg & 20mg
Device Required: Mouth to Lung
Flavours: Watermelon, Mint, Cherry
About the brand:
Just Juice are a UK based manufacturer of premium e-liquids and vaping products. Established in 2017, they have since been able to garner an outstanding reputation in the vape industry, and have truly shown the effectiveness of standing by their ethos of "Real Quality for Real People". With their now vast range of products, including shortfill e-liquids, nic salt e-liquids, Just Juice Fusion, Just Juice on Ice, and even more, Just Juice continue to take the vaping world by storm with products that never fail to satisfy.
Also bought with this product: