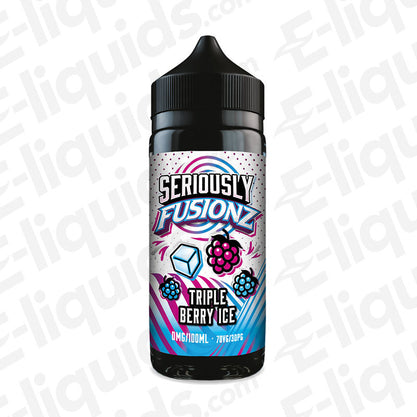 Doozy Vape Co
Triple Berry Ice Seriously Fusionz Shortfill E-liquid by Doozy Vape Co
Select strength/size: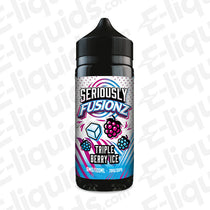 Product Description
Triple Berry Ice by Doozy Fusionz offers tantalising bliss with a blend of sweet raspberry and blueberry, partnered with a refreshing hint of ice for a cool fruity sensation with every draw.
Doozy Vape Co Seriously Fusionz Triple Berry Ice Shortfill E-liquid comes in a 100ml bottle size, leaving enough space for two nicotine shots to be added. Simply apply two 18mg nicotine shots and you'll be able to create a 120ml bottle of eliquid with a 3mg nicotine strength.
This range of e-liquids utilises a 70% high VG ratio which is able to provide thick vapour clouds and smooth throat hits. High VG e-liquids are best used with sub-ohm vape kits for the best possible day-to-day performance.     
E-liquid Ratio: 70VG/30PG
Bottle Size: 100ml Shortfill
Nicotine Additive: Add 2 x 10ml 18mg Nic shot for 120ml 3mg E-liquid (Nic shot sold separately)
Device Required: Sub Ohm / Direct to Lung
Flavours: Mixed Berries, Ice
About the Brand
Doozy Seriously Fusionz is the latest innovation from one of the most popular e-liquid brands on the market today. With their seriously tasty fruit and dessert flavour blends, this latest collection demonstrates their keen eye for the finest taste profiles.