JakD
Repeeled Mango Pineapple Orange Nic Salt E-liquid by JackD
Select strength/size: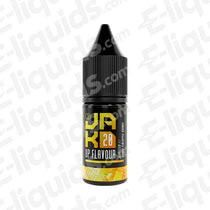 Product Description
Repeeled Mango Pineapple Orange Nic Salt E-liquid by JackD is a mouthwatering fusion of succulent mangoes, tropical pineapples, and zesty oranges, delivering an explosion of vibrant flavours that will transport you to a sun-kissed oasis.
Mango Pineapple Orange Repeeled Nic Salt E-liquid is available in a compact 10ml bottle of e-liquid, offering nicotine salt strengths of 10mg and 20mg. Crafted specifically for pod-style or pen-style vape kits, this nicotine salt e-liquid ensures swift nicotine delivery and delivers remarkably smooth throat hits to users.
JackD Nic Salt e-liquids are formulated with a balanced 50/50 VG/PG blend, ensuring excellent flavour and smooth vapour production. These e-liquids are particularly well-suited for MTL (Mouth to Lung) vaping devices, making them an ideal choice.
Bottle Size: 10ml
E-liquid Ratio: 50VG/50PG
Device Required: Pod Kits / Starter Kits / Mouth to Lung
Strengths: 5mg, 10mg & 20mg  
Flavours: Mango, Orange, Pineapple
Also bought with this product: