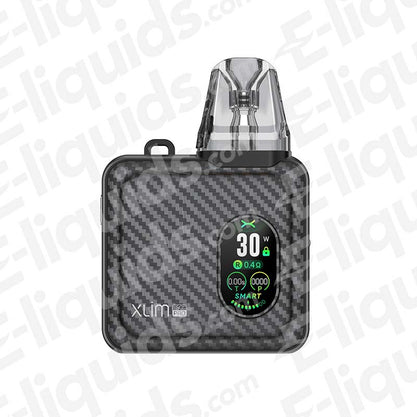 OXVA
OXVA Xlim SQ Pro Vape Pod Kit
Select strength/size: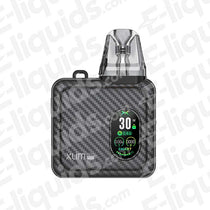 Product Description
The Xlim SQ Pro Bonus Vape Pod Kit by OXVA is the ideal kit for newbies or those looking for a sleek, compact daily vape. With ergonomic AFC and a smart LED screen, this smart little kit offers multiple easy-to-use features for vaping while on the go.
The Xlim SQ Pro device also features a 25W maximum output and a 1200mAh built-in battery, built to last all day. The Xlim SQ Pro Pod Kit has a smart LED screen which indicates how much power is left in the device, meaning you'll always know when it needs to be charged! The screen provides a choice of multiple vaping modes as well as stunning smart graphics. A Type-C fast-charging port is conveniently located at the side of the device, which further makes powering up this device super simple. This kit also comes with a port on the side which can be used to fully control the airflow.
With the OXVA Xlim SQ Pro kit, you can use many different pods including the Xlim V1 and Xlim V2 cartridges as well as all new Xlim Prefilled Pods. These pods have a built-in coil system with several resistances available for both Direct-to-Lung and Mouth-to-Lung vaping. The V2 pods are made so that they won't leak, and they also have a new side-filling feature that will allow you to carry up to 2ml of your favourite e-liquid flavours at once.
For the best possible flavour and performance, we always recommend using these pods with 50/50 nicotine salt e-liquids with strengths between 5mg and 20mg.
Key Product Features:
OXVA Xlim SQ Pro Vape Pod Kit
1200mAh Built-In Battery
Inhale Activation
25W Max Wattage Output
Leak-Resistant
Airflow Control
Prefilled Pods
Compatible with V1 & V2 Pods
Built-in Coils Suited to MTL and RDTL Vaping
Suitable for Nicotine Salt E-liquids
Type-C USB charging
What you get with the OXVA Xlim SQ Pro Bonus Vape Pod Kit:
1 x Xlim SQ Pro Device
1 x 0.6ohm Pod (2ml) (Built-In Coil) (20-25W Range)
1 x 0.8ohm Pod (2ml) (Built-In Coil) (15-20W Range)
Type-C USB Charging Cable
1 x Lanyard
User Manual
The enhanced 1200mAh battery ensures longer vaping sessions and lasting performance without frequent charging
Fully customisable screen with various different themes to choose from.
0.96 inch TFT Colour Screen
Also bought with this product: