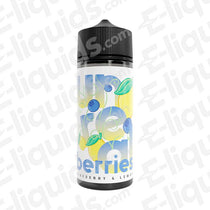 Product Description
Blueberry Lemon Shortfill E-liquid by Unreal Berries sets the stage for a vibrant and refreshing flavour experience. Immerse yourself in the invigorating blend of tangy lemons and juicy blueberries. As you indulge in each puff, your taste buds will be greeted by the zesty citrus notes that harmonise flawlessly with the sweet and tart essence of ripe blueberries. 
Unreal Berries presents its Blueberry Lemon Shortfill E-liquid, offering a 100ml bottle size that accommodates two nicotine shots. Applying two nicotine shots transforms it into a 120ml e-liquid bottle, boasting a 3mg nicotine strength.
With a 70VG/30PG ratio, the complete e-liquid range is tailored for sub-ohm vape kits. Indulge in a seamless DTL vaping experience as these high VG e-liquids captivate your taste buds with their exquisite flavours while producing dense clouds of vapour.
E-liquid Ratio: 70VG/30PG
Bottle Size: 100ml Shortfill
Nicotine Additive: Add 2 x 10ml 18mg Nic shot for 120ml 3mg E-liquid (Nic shot sold separately) 
Device Required: Sub Ohm / Direct to Lung
Flavours: Blueberry, Lemon
About the brand:
Unreal Raspberry are a UK based vape brand who focus on creating premium fruit-filled e-liquids. Each of their blends offers a flavour beyond your wildest imagination!