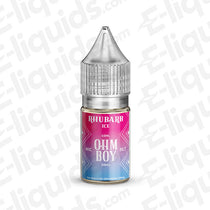 Product Description
Rhubarb Ice Nic Salt E-liquid by Ohm Boy SLT V2 presents a delightful and refreshing flavour profile that is sure to captivate your senses. This meticulously crafted e-liquid blends the tart and tangy essence of rhubarb with a cool menthol twist, resulting in a truly invigorating vaping experience. As you inhale, the distinct notes of rhubarb dance on your palate, offering a unique and exhilarating flavour sensation. The cool rush of menthol gradually emerges, delivering a satisfying and revitalising finish.
Available in a 10ml size, Rhubarb Ice Nic Salt E-liquid by Ohm Boy SLT V2 is formulated with nic salts, ensuring rapid nicotine delivery and a smooth throat hit. Whether you are a novice or a seasoned MTL (Mouth To Lung) vapour, this nic salt e-liquid is designed to cater to your preferences.
With nicotine strengths available in 10mg or 20mg, you can choose the level that suits your needs. The 50/50 VG/PG ratio of this e-liquid makes it ideal for use with pod or pen-style vape kits, guaranteeing a satisfying and well-rounded vaping experience.
The entire Ohm Boy e-liquid range is handcrafted in the UK and features a broad range of flavours suited to a wide range of tastes.
Bottle Size: 10ml
E-liquid Ratio: 50VG/50PG
Device Required: Pod Kits / Starter Kits / Mouth to Lung
Strengths: 10 and 20mg
Flavours: Rhubarb, Ice