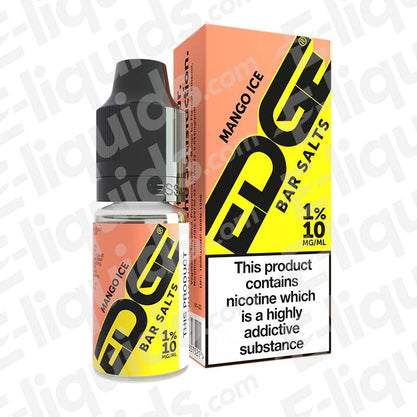 Select strength/size:



Product Description
Mango Ice Bar Nic-Salt by Edge is a bright burst of exuberant mango tones alongside a refreshing ice blend, double concentrated for maximum flavour performance!
If you're a novice vaper or an avid disposable user, these e-liquids come highly recommended. Crafted for fast nicotine delivery and unparalleled flavour clarity. Edge's Bar Salt e-liquid collection is formulated with a 50/50 VG/PG ratio, making them the ideal choice for your preferred Pod-Style or Pen-Style MTL (mouth-to-lung) device.
Edge is primed with years of ground-breaking industry experience with their mission to help people worldwide quit smoking. The all new Bar Salts are inspired by only the most popular disposable flavours for users looking to ditch the single-use devices for a more economic and ergonomic choice. Reusable pod kits are a more eco-friendly and wallet-friendly alternative to both traditional smoking and disposable vape use.
Bottle Size: 10ml
E-liquid Ratio: 50VG/50PG
Device Required: Pod Kits / Starter Kits / Mouth to Lung
Strengths: 10mg, 15mg and 20mg
Flavours: Mango, Ice
About the Brand
Edge is a brand dedicated to easing the transition of smoking cessation with innovative and user friendly creations, designed with smokers in mind. With a see a need, fill a need attitude, Edge are a major provider of stop-smoking aids. With a focus on economic solutions to smoking, Edge pods, kits and liquids priorities a high quality experience and high performance flavour.