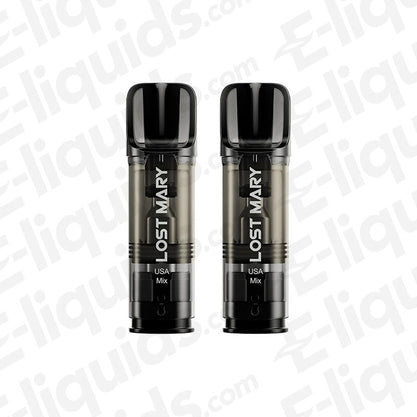 Lost Mary
Lost Mary Tappo E-Liquid Pre-filled Vape Pod USA Mix
Select strength/size:

Product Description
USA Mix prefilled Tappo Pods by Lost Mary is a rich vanilla-toned blend of the finest US tobacco, flavoured to be immensely satisfying to smoking fiends, by design.
Bottle Size: 10ml
E-liquid ratio: 50VG/50PG
Device Required: Pod Kits / Starter Kits / Mouth to Lung
Strengths: 20mg
Perfect for use with either the Tappo pod kits or Elfa Pro Pod Kits for the ultimate user-friendly MTL (Mouth to Lung) vaping experience. Tappo pre-filled pods offer incomparable flavour and nicotine pay-off for the full duration of your pods lifespan.
About the Brand
Lost Mary takes pride in producing vape devices with innovative style and high performance. Lost Mary rapidly shot to vape stardom with their incomparable flavour pay-off and uber aesthetically pleasing devices, it only felt right for Lost Mary to unleash their famous flavours on the entirety of the vape world. Nic Salts offer longer-lasting nicotine satisfaction with intense flavour profiles for the most enjoyable experience that hit the spot on every draw.
Also bought with this product: