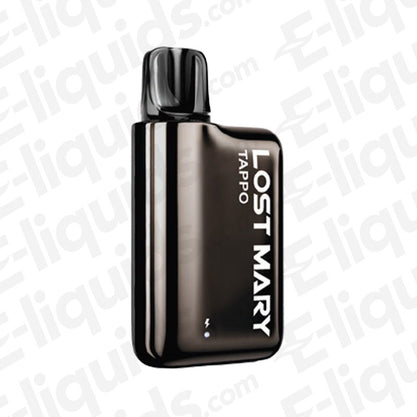 Lost Mary
Lost Mary Tappo Pod Kit Vape Device
Select strength/size:

Dark Bronze Blueberry Sour Raspberry


Silver Stainless Steel Strawberry Ice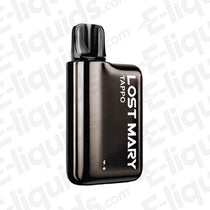 Product Description
Tappo by Lost Mary is the latest version of Lost Mary vape. The prefilled pod kit offers the same Lost Mary tastes you know and love in an all-new reusable kit.
Designed to resemble the best-selling BM600, the sleek component features a rechargeable battery and replaceable pre-filled pods for an all-around more economical vape experience.
This offers better value for money as well as being beneficial environmentally. The ultra-convenient device can be used with Lost Mary Tappo Refillable Pods, as well as El Bar V2 Refillable Pods.
Elf Bar Elfa Pod Kit
Closed Pod System
Pre-filled 2ml Pods
500mAh Built-In Battery
Elf bar V2 Pod and Tappo Pods cross-compatibility
Inhale Activated
Up to 600 Puffs Per Pod
Type-C Charging
About the Brand
Lost Mary takes pride in producing vape devices with innovative style and high performance. Lost Mary rapidly shot to vape stardom with their incomparable flavour pay-off and uber aesthetically pleasing devices, it only felt right for Lost Mary to unleash their famous flavours on the entirety of the vape world. Nic Salts offer longer lasting nicotine satisfaction with intense flavour profiles for the most enjoyable experience that hits the spot on every draw.
Also bought with this product: