Nasty
Blue Raspberry Lemonade Nasty Bar DX2 Disposable Vape Device
Select strength/size: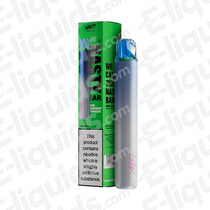 Product Description
Blue Raspberry Lemonade DX2 Disposable Vape by Nasty is a  fizzy fiend, sure to make its way into your vape rotation. With delicious blueberry top notes accompanied by a stimulating raspberry blast for added zing.
Nasty have an intricate understanding of the industry that helps them develop only the highest quality vape products for truly unbeatable results. Nasty is a state of mind, a challenge to the norm resulting in an elevated experience.
With mesh coil technology, Nasty Bar offers flawless flavour delivery and effortlessly smooth vapour production. The draw-activated device is pre-filled with 2ml of 20mg Nasty Nic-Salt e-liquid, so just rip off the packaging and you're ready to vape. 
Nasty have perfected their formulas through tried and tested industry experience. Each device has been meticulously designed for maximum usability and practicality, as well as style and flair. The sleek Nasty Bar design is the cutting edge of disposables with its semi-transparent mouthpiece and duo-toned pen style device. 
Available in 16 unbeatable flavours that last for up to 600 puffs, Nasty Bar will be your latest craving and newest addition in your vape rotation. 
Features:  
2ml E-liquid Capacity 
1.3 Ohm Mesh Coil
500 mAh Built In Battery 
Up to approx 600 puffs
Contains 50 VG / 50 PG E-liquids
Available in 16 flavours
About the Brand
Nasty are a Malaysian e-liquid company achieving international acclaim with their exotic and daring flavour combinations, accompanied by their intricate understanding of the vape industry and its needs. With a wealth of experience in creating only the most authentic, high-end flavours, Nasty unleash their all-new range of flavours in disposable, pod and e-liquid form.
Also bought with this product: