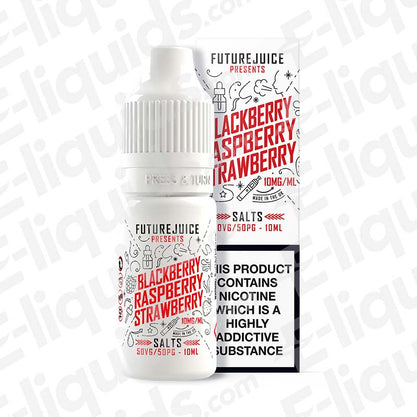 Future Juice
Blackberry Raspberry Strawberry Nic Salt E-liquid by Future Juice
Select strength/size: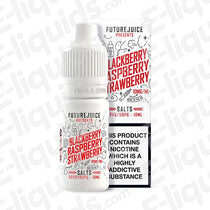 Product Description
Blackberry Raspberry Strawberry Nic Salt E-liquid by Future Juice is a delicious blend of three juicy fruits, expertly crafted to create a sweet and tangy vaping experience. With a smooth and satisfying nicotine hit, this flavourful eliquid is perfect for vapers looking for a refreshing all-day vape..
The Future Juice Nic Salt E-liquid range is perfect for vapers seeking an exceptional vaping experience. With nicotine strengths of 10mg and 20mg and a unique formula that delivers nicotine quickly, this e-liquid produces a rich and flavourful vapour that you can enjoy day in and day out. Plus, it comes in a convenient 10ml bottle size.
This e-liquid is tailored for pod-style or pen-style vape kits with its 50/50 VG/PG ratio. When infused with nicotine salts, these kits deliver a smooth and flavorful vape experience, striking the perfect balance between satisfying throat hit and robust vapor production.
10ml Bottle Size
50VG/50PG
Suitable for use with MTL Vape Kits
10 & 20mg Nicotine Strength
Flavours: Blackberry, Raspberry, Strawberry
About The Brand
Future Juice's flavour offerings are handmade in the UK with a vast offering of flavour profiles from fruits all the way to desserts. Taste the flavours of the future!