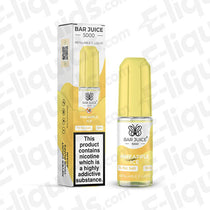 Product Description
Pineapple Ice Nic Salt E-liquid from Bar Juice 5000 perfectly blends the delicious flavour of fresh and sweet pineapple together with icy notes to create a fruity and refreshing e-liquid that can easily be enjoyed all day long.
Bar Juice 5000 Pineapple Ice Nic Salt E-liquid comes in a 10ml bottle of e-liquid in 10 and 20mg nicotine salt strengths. Nicotine Salt E-liquids can be used with pod-style or pen-style vape kits and will provide users with fast nicotine delivery and incredibly smooth throat hits.
This entire flavour range utilises a 50/50 VG/PG ratio which is able to provide ample vapour and flavour production for vaping on the go.
Manufactured in the UK, Bar Juice 5000' flavours replicate one of the most popular disposable vapes available on the market.   
Bottle Size: 10ml
E-liquid Ratio: 50VG/50PG
Device Required: Pod Kits / Starter Kits / Mouth to Lung
Strengths: 10mg & 20mg  
Flavours: Pineapple, Ice