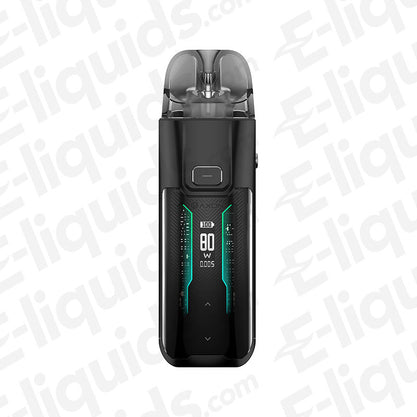 Select strength/size: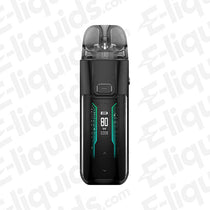 Product Description
The Vaporesso Luxe XR Max vape kit embodies a blend of durability and compactness, meticulously engineered to prioritise portability. Boasting a powerful 2800mAh built-in battery, this sub ohm vape device ensures an extended vaping experience before necessitating a recharge. With its variable 5-80W power output, users have the freedom to customise their vapour production according to their preferences. Moreover, the versatility of the Luxe XR Max enables compatibility with both DTL (Direct To Lung) and RDTL (Restricted Direct To Lung) vaping styles, courtesy of the included GTX coils, while also supporting MTL (Mouth To Lung) coils from the same coil range.
Equipped with an array of noteworthy features, the Luxe XR Max streamlines usability with a single activation button, eliminating the need for cumbersome navigation through complex menus or multiple button presses. It is accompanied by a 0.2 Ohm coil that produces slightly higher vapour output compared to the 0.4 Ohm option, providing users the flexibility to experiment with different inhalation styles, all while ensuring optimal performance through its intelligent AXON chip, which automatically selects the appropriate wattage based on the inserted coil. Furthermore, the adjustable airflow slider grants users the ability to fine-tune their inhalation experience, whether they prefer a tighter or looser draw.
The Luxe XR pods included in the kit ingeniously combine the functionality of a tank with the simplicity of a pod. With a convenient top-filling design, refilling the pods becomes a hassle-free process that doesn't require detachment from the device. The replaceable mesh coils not only contribute to a more cost-effective and eco-friendly approach, but also enhance the overall flavour delivery. Regardless of the coil variant chosen, it is recommended to pair both options with 70% VG e-liquid or higher VG alternatives to achieve optimal performance and satisfaction.
Features: 
Sub Ohm Pod Kit
2800mAh Built-in Battery
5 - 80W Output
DTL, RDTL & MTL Vaping
2ml Pod Tank
Replaceable Mesh Coils
Adjustable Airflow
In The Box: 
Vaporesso Luxe XR Max Vape Device
Vaporesso Luxe XR Pod (RDTL)
Vaporesso Luxe XR Pod (DTL)
0.2 Ohm Vaporesso GTX Coil
0.4 Ohm Vaporesso GTX Coil
USB-C Charging Cable
User Manual
Vaporesso Luxe XR Max Vape Kit Specification
| | |
| --- | --- |
|  Height |  110mm |
|  Width |  33mm |
|  Depth |  26mm |
|  Made in |  China |
The Future Of Vaping
7 New Colours To Choose From.
Full Compatibility With All The XR Pod Range
New High Capacity 2800mAh Battery
Which vape juice should I use with theLuxe XR Max Kit?
We recommend vaping with high VG liquids from 70vg and above. If you need help choosing the best nicotine strength for you, why not check out our handy nicotine guide here?
When should I change my coils in theLuxe XR Max Kit?
As with any vaping device, markers will be displayed to the user when their coils are beginning to reach the end of their overall life. You'll need to replace your coils when you begin to notice a slight burnt taste on inhale and an overall drop in your device's performance.
Also bought with this product: