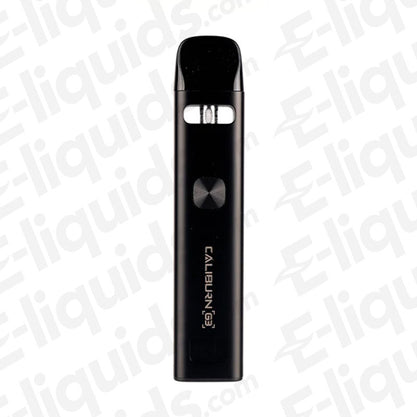 Uwell
Uwell Caliburn G3 Vape Pod Kit
Select strength/size: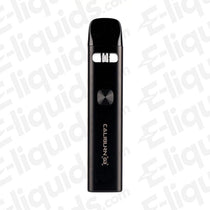 Product Description
Caliburn G3 Vape Pod Kit by Uwell, the latest evolution in the esteemed Caliburn series. Designed with Mouth-to-Lung (MTL) and Restricted Direct-to-Lung (RDTL) enthusiasts in mind, this cutting-edge kit boasts an array of exceptional features.
Equipped with a robust 900mAh built-in battery and an impressive output range of 5-25W, the Caliburn G3 offers both variable wattage control and an exceptional vaping experience. Its 2ml refillable pod ensures convenience and flexibility, featuring user-friendly side-filling functionality and integrated built-in coils. Dual airflow channels allow for precise customisation, allowing you to tailor your vaping experience to your preference.
Safety is a top priority with the Caliburn G3, as it features alerts to warn you of potential issues such as short circuits, low voltage, and overdraws. You can have peace of mind while enjoying your vape.
To ensure consistently smooth and satisfying vaping sessions, we recommend using nicotine salt e-liquids with strengths ranging from 5-20mg. Elevate your vaping experience with the Caliburn G3 Vape Pod Kit, where innovation meets convenience for an unforgettable journey in the world of vaping.
Features:
900mAh Built-In Battery
5-25W Output Range
MTL And RDTL Vaping
Variable Wattage
2ml Refillable Pod
Side-Filling Pods
Built-In Coils
Dual Airflow
In The Box:
Caliburn G3 Device
0.6 Ohm Pod
0.9 Ohm Pod
Type-C Charging Cable
Lanyard
User Manual
The Brand New Caliburn G3 Kit
Integrated Coils For Easy Use
New 0.6 Ohm Coils
6 Stunning Colours to Choose From
Uwell Caliburn G3 Vape Pod Kit FAQs
Which e-liquids should I use with the Caliburn G3 Vape Pod Kit?
We recommend using the Caliburn G3 Vape Pod Kit with nicotine salt e-liquids for the best possible performance. These types of e-liquids will provide you with a high level of nicotine satisfaction alongside incredibly smooth throat hits with every single vape.
When should I change my coils in the Caliburn G3 Vape Pod Kit?
The Caliburn G3 utilises the Caliburn G3 Pods which should be changed every 1-2 weeks. However, this timeframe will vary depending on your overall day-to-day usage. You'll know that it's time to change your coils once you begin to notice a slightly burnt flavour on inhale and an overall drop in your device's performance.
Does the Caliburn G3 Vape Pod Kit offer variable wattage?
The Caliburn G3 does have a variable wattage function, making it an easy-to-use choice for vapers of all experience levels. Simply inhale from the top of your device and you'll be all set!
Can I use salt nicotine e-liquids with the Caliburn G3 Vape Pod Kit?
Yes, you can use nic salt e-liquids with the Caliburn G3 pod kit. Nicotine salt e-liquids are the best possible choice to use with this kit, producing smooth throat hits and rapid nicotine delivery. However, if you'd prefer a stronger throat hit, we best recommend pairing this kit with 50/50 freebase e-liquids.
Have a question about this product? Get in touch with one of our Vape Experts!
Also bought with this product: