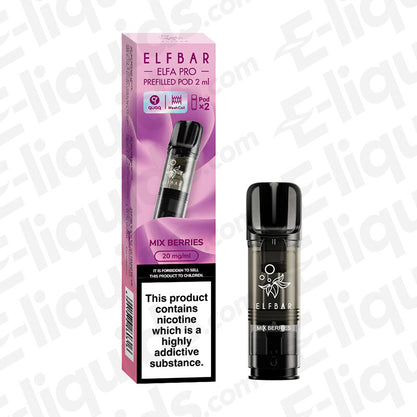 Elf Bar
Elf Bar ELFA PRO Pre-Filled Vape Pods - Mix Berries
Select strength/size: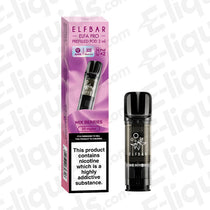 Product Description
Dive into a symphony of berry bliss with our Mix Berries Elfa Pro Pods. This delightful fusion of assorted berries provides a medley of flavours that dance harmoniously on your palate.
Discover the perfect fusion of innovation and convenience with our Elfa Pro Pre-filled Pods. Designed to cater to vapers of all levels, this remarkable vaping accessory showcases a host of features that will redefine your expectations of what a pre-filled pod can deliver.
Never miss a moment of vaping pleasure with our Elfa Pro Pre-filled Pods' generous 2ml e-liquid capacity. Whether you're at home, at work, or on the move, the ample e-liquid reservoir ensures you can indulge in your favourite flavours without the constant need for refilling, allowing you to focus on what truly matters – enjoying your vaping experience to the fullest.
Experience the smoothness and satisfaction of nicotine salt e-liquid, specially crafted for an unparalleled vaping experience. The Elfa Pro Pre-filled Pods feature premium-grade nicotine salt e-liquid, offering a satisfying nicotine hit without the harshness often associated with traditional freebase nicotine. This creates a perfect balance, ideal for those seeking a more enjoyable and satisfying vape.
Get ready to be blown away by the exceptional flavour and vapour production of our exclusive QUAQ Mesh coil design. Engineered with precision, this innovative coil technology enhances the e-liquid flavour profile, delivering a rich and robust taste with every draw. Embrace the pleasure of dense clouds and intense flavour as you savour every moment with the Elfa Pro Pre-filled Pods.
Features: 
2ml of Liquid
New QUAQ Mesh Technology 
Nic Salt E-liquid 
600 Puffs Per Pod
In The Box: 
Also bought with this product: