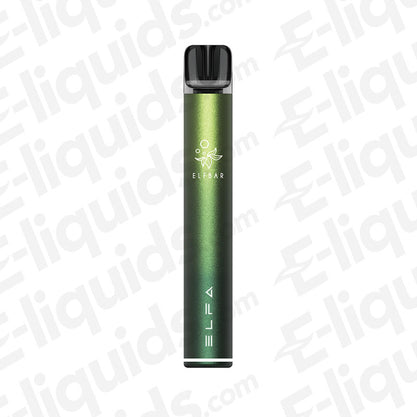 Elf Bar
Elf Bar Elfa Pro Pod Kit Vape Device
Select strength/size:
Aurora Green - Apple Peach

Navy Blue - Blueberry Sour Raspberry

Black - Blue Razz Lemonade


Aurora Blue - Kiwi Passion Guava

Twight Blue - Mix Berries

Aurora Purple - Watermelon

Aurora Pink - Pink Lemonade

Dream Like Purple - Watermelon

Dream Like Blue - Blue Razz Lemonade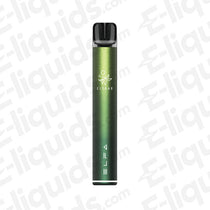 Product Description
The ELFA Pro Pod by Elf Bar, is a sleek and powerful device designed to take your vaping journey to new heights. This cutting-edge pod system boasts a range of exceptional features that ensure a seamless and satisfying vaping experience.
Say goodbye to constant charging and enjoy extended vaping sessions with the ELF Bar ELFA Pro Pod's impressive 500mAh battery capacity. This long-lasting power source guarantees that your vaping sessions will be uninterrupted, providing you with the freedom to explore a world of flavours without worrying about running out of power.
Discover vaping nirvana with up to 600 puffs on a single charge. The Elf Bar ELFA Pro Pod's efficiency ensures you get the most out of your device, maximising the enjoyment of each vaping session and reducing the need for frequent recharging.
Simplicity meets sophistication with the Elf Bar ELFA Pro Pod's draw-activated technology. Bid farewell to buttons and settings – all you need to do is take a puff, and the device springs to life, delivering smooth and satisfying clouds of vapour. This feature provides a hassle-free and user-friendly vaping experience, making it an ideal choice for both beginners and seasoned vapers alike.
Express your unique style with the Elf Bar ELFA Pro Pod, available in an array of captivating colours. From classic shades to vibrant hues, find the perfect match that resonates with your personality and elevates your vaping experience to a whole new level of customisation.
Crafted with precision, the Elf Bar ELFA Pro Pod sets the standard for portable vaping devices. Its sleek design, powerful battery, and intuitive draw activation make it an exceptional choice for on-the-go vapers, ensuring that you can enjoy your favourite flavours whenever and wherever inspiration strikes.
Features: 
500 mAh Battery 
600 Puffs Per Charge
Sleek and Compact
38 Pods to Choose From
In The Box: 
1 x Elfa Pro Pod Kit
1 x Elfa pro Pod
1 x USB-C Charging Cable
How to use the Elfa Pro Pod Kit
The New Elfa Pro Is Here
More Cost Effective
No More Burnt Taste
Start Vaping Right Away
New Quaq Coil Technology
Also bought with this product: