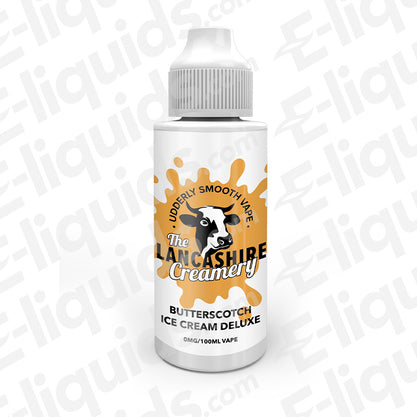 Select strength/size: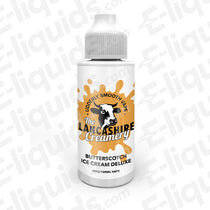 Product Description
Butterscotch Ice Cream Deluxe Shortfill by The Lancashire Creamery is a luscious blend of velvety vanilla ice cream and rich butterscotch. Sweet and creamy, each puff delivers the ultimate dessert experience. Satisfaction in every drop.
The Lancashire Creamery's Butterscotch Ice Cream Deluxe Shortfill E-liquid is available in 100ml shortfill bottles with room for two nicotine shots. Vapers can add two 18mg nicotine shots to create a 120ml bottle of e-liquid with 3mg nicotine strength.
Lancashire Creamery e-liquids contain a 70% VG ratio which provides velvety vapour clouds which perfectly complement their dessert flavours. High VG e-liquids should be used with DTL vape kits for the best performance.
E-liquid Ratio: 70VG/30PG 
Bottle Size: 100ml Shortfill
Nicotine Additive: Add 2 x 10ml 18mg Nic shot for 120ml 3mg E-liquid (Nic shot sold separately)
Device Required: Sub Ohm / Direct to Lung
Flavours: Butterscotch, Ice Cream
About the brand:
Lancashire Creamery E-liquids offer vapers a chance to experience the unmistakable tastes of Lancashire bakeries. Expect buttery richness across their full range, complete with dessert favourites and boutique offerings for vapers in need of something totally new!