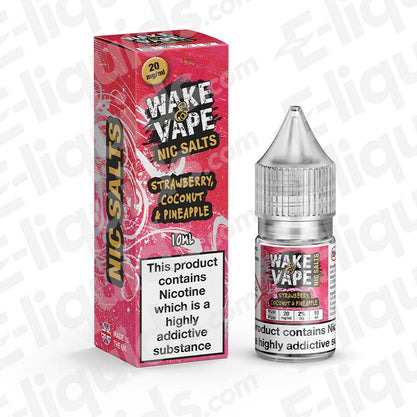 Wake N Vape
Strawberry Coconut Pineapple Nic Salt by Wake n Vape
Select strength/size: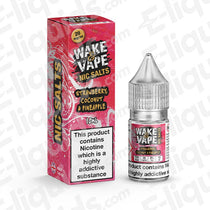 Product Description
Strawberry, Coconut and Pineapple Nic-Salt from Wake N Vape offers an exotic blend of sweet strawberry and creamy coconut tones accompanied by the sharp tang of pineapple to create this innovative colada-inspired mix.
Wake N Vape Nic-Salts come in 10ml bottles and are available in 10mg & 20mg Nic-Salt strengths. Nicotine salts are a perfect choice for a smooth throat hit, clear flavours, and speedy nicotine delivery.
Wake N Vape Nic-Salts e-liquids consist of a 50/50 VG/PG blend for optimal flavour and smooth vapour production, making them perfect for use with MTL (Mouth to Lung) vaping devices.
10ml Nic-Salt E-Liquid
10mg Or 20mg Strength
TPD Compliant
Childproof Caps
Tamper Evident Seal
About the brand
Wake and Vape juice are a UK based brand dedicated to bringing only the most absurdly delicious e-juice from menthols to yummy fruits, sweets and delectable desserts. Wake and Vape flavours are rich and intense with something to cater to every palate, all flavours available in super-satisfying Nic-Salts and long lasting Shortfills.