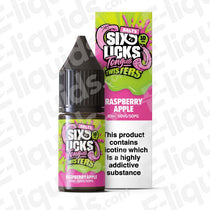 Product Description
Raspberry Apple Nic Salt E-liquid by Six Licks Tongue Twisters is a refreshingly sweet blend of raspberry and apple flavours, topped off perfectly with a delicious and tangy tantalising kick, making for an incredible vaping experience.
Six Licks Sours Nic Salts come in a 10ml bottle and are available in 10mg or 20mg nicotine strength options.
Six Licks Sours Nic Salts come in a 50VG / 50PG blend, meaning they provide excellent flavour and vapour production, whilst still being able to be used in many of the most popular vaping pen style and pod-style vape kits.
10ml Nic Salts
10mg / 20mg Nicotine Strength
50VG / 50PG Mix
Device Required: Pod Kits / Starter Kits / Mouth to Lung
Flavours: Raspberry, Apple, Sour
About the brand:
Six Licks are a UK based e-liquid brand that were founded in 2017. Since then, they've been able to gain a huge following all over the world with their award winning premium e-liquid ranges.The idea that has driven Six Licks' success is "Flavour Perfection, In Every Drop." We certainly believe they have more than delivered on that.