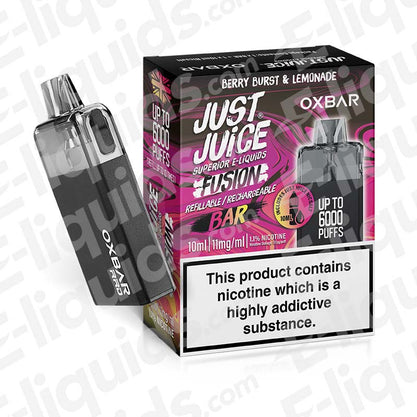 OXBAR
Berry Burst and Lemonade Oxbar RRB Disposable Vape by Just Juice
Select strength/size: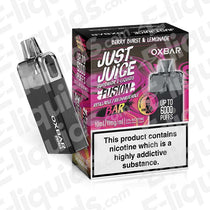 Product Description
Berry Burst and Lemonade Oxbar RRB Disposable Vape by Just Juice brings together a medley of juicy mixed berries, perfectly balanced with a tangy lemonade twist. The result is a refreshing and fruity vaping experience that will make your taste buds burst with joy.
The Oxbar RRB device is a 2ml refillable and rechargeable device that is sleek, stylish and offers supreme flavour production.
The kit and included bottle offers up to 3000 puffs, which can be boosted to an outstanding 6000 puffs with the purchase of an additional 10ml bottle of e-liquid, equivalent to 10 of your typical 600-puff disposable vapes.
The device features a built-in rechargeable 550mAh battery, as well as a 1ohm mesh coil, ideal for flavourful MTL vaping.
The Just Juice Oxbar RRD comes paired with a 10ml bottle of Just Juice nic salt e-liquid, a world-renowned brand known for its incredible flavour and smooth vapour production.
Just Juice nic salts are available in 11mg & 20mg nicotine strength options, and are a 50/50 VG/PG blend, making them the perfect choice for pairing with the RRB device.
Just Juice Oxbor Disposable Vape
Inhale Activated
Pre-filled 2ml Nicotine Salt
20mg Nicotine Strength
Refillable Pod Tank
Fixed Wattage
50/50 VG PG Ratio
550mAh Built-in Battery
Mouth-to-Lung Vaping Style
Passthrough Vaping
Type-C USB Charging
Available in Dozens of Flavours
About the Brands
Just Juice are an extremely popular and well-established e-liquid brand, known for their huge range of delicious flavours and high-quality ingredients.
Oxbar are known for their incredible range of disposable vapes, upheld by supreme quality, excellent flavour and reliable battery life.

The Just Juice x Oxbar RRB collab sees the two hugely popular brands coming together to offer an all-in-one kit that packs a huge punch in terms of the device, its e-liquid, and its outstanding value for money.
FAQs
Who are Just Juice?
Just Juice are a UK based e-liquid brand, known for their award winning flavours, which are made from the highest quality ingredients. Their message is "Real Quality for Real People", which is backed up by their remarkable reputation.
Who are Oxbar?
Oxbar is a rapidly growing vape manufacturer created by Oxva. They've very quickly been able to develop an outstanding reputation for their high quality disposable vapes. Flavour is in fashion with Oxbar's incredible range of vaping products.
Are Oxbar RRB Pods Replaceable?
The Oxbar RRB is designed to be an all-in-one disposable pod vape. This means that the pods are not replaceable. They are, however, refillable, meaning you can get up to 6000 puffs before having to dispose of your device.
Is the Oxbar RRB Rechargeable?
The Oxbar RRB comes with a built-in 550mAh rechargeable battery that can be charged via the USB-C fast charging port of the device.
What Type of Vape is Oxbar RRB
The built-in 1ohm mesh coil of the Oxbar RRB makes it a perfect option for flavourful MTL (Mouth to Lung) vaping, meaning the 50/50 nic salt e-liquid included is a perfect companion for this device.
Also bought with this product: